What is a Constitutional Convention?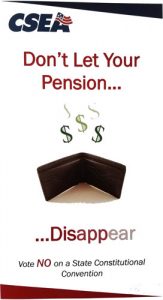 A constitutional convention is a meeting of 204 elected delegates in Albany to consider changes to New York's state constitution.
Each delegate receives the pay of a state legislator, as well as pension credit.
A constitutional convention would be controlled by special interests that want to reduce or eliminate pension benefits, and could cost taxpayers over $314 million.
On November 7, 2017, New Yorker's will vote to decide whether the state should hold a constitutional convention.
Why is this important?
A state constitutional convention could put the pensions of all CSEA members and retirees at risk and result in radical changes to our state constitution.

The New York State constitution states:
membership in any pension or retirement system of the state or of a civil division thereof shall be a contractual relationship, the benefits of which shall not be diminished 4r impaired
This means that once a pension benefit is earned, it cannot be taken away.
This is why the state has six pension tiers—each new tier reduces pension benefits for new members, but the benefits of individuals already in the retirement system cannot be reduced.
A constitutional convention could put this protection in jeopardy!
What Can You Do?
Encourage your friends, family, and coworkers to VOTE NO on November 7
Visit cseany.org/stopthecon for more information
Become a PEOPLE member
Contact your region's Political Action Coordinator for more Information on the constitutional convention:
Region 1
Sue Castle - (631) 462-0030
Region 2
Matt D'Amico - (212) 406-2156
Region 3
Chris Ludlow - (845) 831-1000
Region 4
Bill Gustafson - (518) 782-4400
Region 5
Josh Schick - (315) 433-0050
Region 6
Chris Racki - (716) 691-6555